A relatively new anime series (though as of this writing it's already reached 12 episodes),
Saint Seiya Omega
is a sort of continuation of the original Saint Seiya storyline that concluded with the
Hades
arc.
In this series, the spotlight falls on a new generation of Saints who must protect
Athena
from a new threat to the Earth,
Martians
! (Or
Mars Knights
- the followers and soldiers of the main antagonist,
Mars
).
From Wikipedia:
Quote:
The storyline of Omega takes place in the future era, 25 years after the Holy Wars of the 20th century narrated in the original manga and its anime adaptation. The Goddess Athena is still on Earth after reincarnating to cleanse it of the agents of evil as she has done during millennia, accompanied by her Saints, fulfilling her duty of protecting peace on Earth, after her victories over antagonistic deities. Athena and a new generation of Saints prepare to face a new menace that lurks in this new era, in which Pegasus Seiya, the protagonist of Kurumada's manga, is revered as a Saint of legend.
As the above synopsis suggests, the original characters are also featured in this story, though so far only a few are seen or are just passingly mentioned. The main character is the new Pegasus Saint,
Koga
who will be forced to gather allies and battle
Mars
, who may or not be the God of War (I guess he is but there's no real confirmation from the show).
Above (from left to right)
:
Koga
,
Athena (Saori)
and
Seiya
Saori
is still Athena and Seiya now wears the
Gold Sagittarius cloth
with a very stylish
Masked Rider
ish scarf to complete the new look. There's also a jewel in the chest area which I will come to in a bit.
From left to right
:
Wolf Haruto
(ground),
Orion Eden
(above Haruto),
Aquila Yuna
,
Pegasus Koga
,
Lionet Soma
, and
Dragon Ryuho
So far the show seems decent, though if you're a huge fan of the original series, you might find a few problems with it. Some major changes include the inclusion of odd jewels in the cloths. Now, instead of the giant boxes Saints traditionally carried their cloths in when they weren't worn, the cloths are housed in these
cloth stones
, a jewel which can be worn around the neck, as a ring or earring, or even a braclet. By raising their cosmo, a Saint can activate their cloth stones and their cloths will appear as their constellation object before seperating and attaching themselves to their hosts. Kinda snazzy but seems out of place to me. Also, the stones allow the user to be able to channel an element in their powers: Water, earth, wind, fire, thunder, light and darkness. Why? Heh, no idea....guess they wanted make stuff interesting for new viewers (though it was kinda explained in episode 12). Other weird stuff include the fact that
Orion Eden
is a
Bronze Saint
whereas in the original manga and anime series Orion was actually a
Silver Saint
constellation. Well, whatever.
Here are more images from the OP: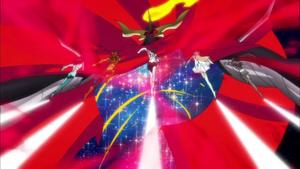 Anybody else have any thoughts on this series?
Jam it back in, in the dark.