| | |
| --- | --- |
| | Feb 10, 2007 - 07:23 AM |

I've upgraded my e-penis
Lately I've been spending my money on shit that may at first seem unnecessary. It is.
BUT these tiny bits of luxury, are in my book worth the dough. Also, I might as well spend some money before you guys fuck up our planet and cause Europe to lie under water (DIDYOUGETITGLOBALWARMINGLOL).

Here's my new stash.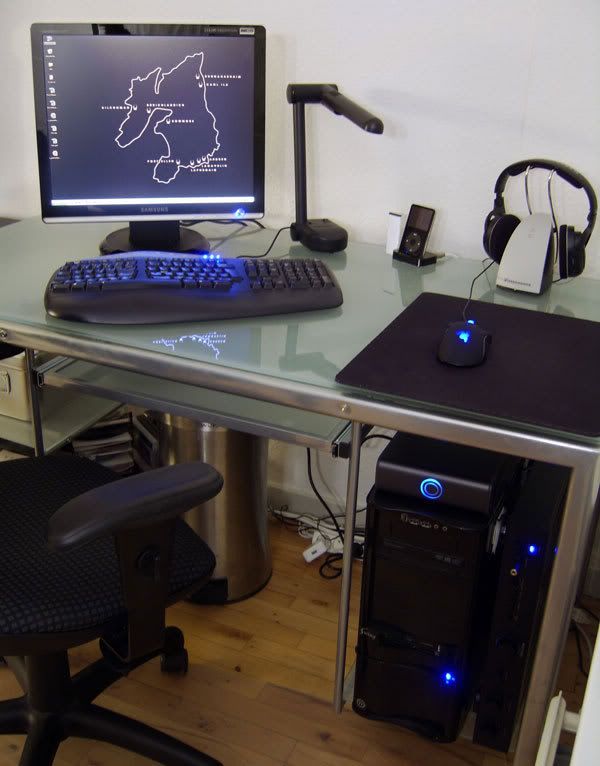 New Mouse: Razer Deathadder
Q: Assjack, why would you give up on a perfectly good working Copperhead?
A: I hate that mouse. A year ago I got this "high tech laser engine masterpiece of technology", and I even got the Everglide Titan mousemat (that is actually the same mat as Razer Mantis Speed, optimized for laser, but without the ugly print). I've never worked with such failure in hardware before. Driver's back-forth, firmware back-forth, cleaning the sensor, cleaning the mat – the mouse pointer would always jitter all over the place anyway. Some people might never notice, but when working in Photoshop you will want to kill this piece luminated crap.
Then I preordered the Deathadder (infrared sensor, not optical), and wow. This is the steadiest thing I've ever used. I can draw a perfectly smooth circle, and then draw another one on top of it without a hitch. Anything not perfectly done with this mouse is only caused by my own greasy unsteady hands.


New headphones: Sennheiser RS120
Q: Your other headphones was only a year old too, dimwit!
A: Wireless. Seriously, I can't even count how many times I was about to suffer a strangling end to my life by that unwieldy cord of death. It would get stuck everywhere. The chair's armrest. Under the chair. Behind the chair. Getting them on was a science in itself, untying them after previous use.
Despite the long cord, it was not long enough for me to use them comfortably with my TV (and I was going to, if I was ever gonna play any console with my studying gf around), so there's another pro right there.
"Yadayada wireless suck". Well, my old headphones must have really sucked then, because I've never heard such quality in headphones before. Shit, I didn't know you could get earphones that could sound this deep. No, I practically haven't tried many either, so I'm all blessed with sweet ignorance anyway.


Internal SD (and others whocares) cardreader
Q: Goddamn snowballer, was it so hard to just plug the cord from the camera into the PC?
A: This was a gift actually, but it was a christmas wish on my part though. Couple of things: no more messing with the camera+cord. Just plug the card in. Another reason was the Wii – got a 2gb in there that would require me to pull out my camera, every time I would want to use it on my PC. No more. Just take it from the Wii and plug it in. Easy, Convenient, and it goes nicely with the black rig too.


External hdd: Western Digital My Book 320GB
Q: But you bought a hdd just last year goatwanker!
A: Yeah, I bought a new 40gb on top of my old 40gb. 80gb is like infinity amount of space, I woul never ever be able to fill up with shit. LOL @ me

So I bought an external one. It has possibilities that I've had need of before, being easily transportable and all. I didn't go for 500gb, because I want to feel like a wanker next year too.


New monitor: Samsung Syncmaster 931C
Q: This one tops em all poo tool, why would you trade an outstanding quality 21" crt with this designed piece of mainstream fap job. You should know better!
A: When I was looking for a monitor a couple of years ago I had one thing in mind: It had to be big enough to watch movies on, which meant at least 21" – like my TV when I lived at home. I wasn't about to give $384 in license fee a year, for my crappy old TV (come to think of it, by now I've got the monitor for free anyway, not having to pay TV-license these past years).
So I thought: 21" monitor, flatpanel preferable. But the quality of flatpanels just wasn't good enough, so I finally bought a 21" Samsung Syncmaster 1100DF.
Tree things has now changed since then.
1: from Janurary 2007, everyone in Denmark must pay for TV-license whether or not they have a TV. They cloak their excuse to suck more money from innocent people by calling it "media license". Got internet? A phone? Maybe the filling in that tooth of yours can pick up radio signals! GIVES USS SOME MONEYS! So obviously I got myself a TV, as I would effectively be paying for it anyway - being in position of both internet and a phone. Having a huge 21" pumping ultraviolet radiation into my face has now lost its main purpose.
2: My new desk suffered heavily under the 36kg heavy CRT monitor – the glass plate sinking almost half an inch where the monitor was standing.
3: Computer Flatpanes are now good enough (for me). 2ms, 2000:1 contrast ratio, and 97% color innovation on a gaming monitor. Yes please!
There's also coming some 2ms, 3000:1, 20" and 22" widescreen monitors from Samsung later this year, but widescreen would fuck up many of the old games I play, so I'm actually fine with it. For now…



Abort? Retry? Fail?