| | |
| --- | --- |
| | Jan 15, 2007 - 08:24 AM |

Off the tracks, into the lake, we'll all enjoy today!
The Jet Coaster / Rollercoaster World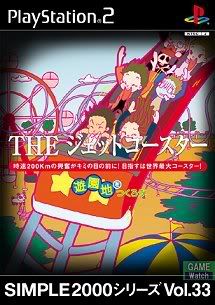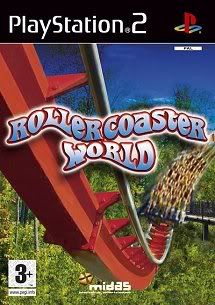 Developer:

Takara

Publisher:

D3 / Midas


ONE. The. Remember The One? Wasn't that like a really rubbish movie or what? Everyone commented on the way the movie made them feel like they'd just sat in the city dump rather than the cinema. It's gotta be true, because I just typed it, therefore it's officially on the Internet. Not me though, I mean, I liked it. I liked it when Jet Li hurt people, and when the stuff happened. That was great. And seeing how he hurt most of the paying public, I guess that pretty much makes it my favorite movie ever. It's the law. Speaking of one and pain, apparently ONE guy made this game.

I always do a little bit of detective work before leaping on in here and vomitting off-topic words that nobody reads. Might as well since I have to track down images anyway. Unless the game is so unknown that photos of my TV in the nude (the TV, not me.. unless) are required. So yeah, one guy! And he's made one before this on Dreamcast! That's only fitting though, a one man development team for the one consumer console (HAHA DID YOU SEE WHAT I DID THERE? I ATTEMPTED TO TROLL THE SAYGAH BUT DID SO WITH A POORLY CONSTRUCTED SENTENCE).

Poorly constructed can be linked back to roller coasters, so phew, a new paragraph enters the arena with all the grace of Balrog in a tutu. Rollercoaster World is very much like the classic Theme Park, but with a sterner attitude and a greater focus on the actual roller coaster stuff. Here's me thinking roller and coaster worked together with a space, but it's one word according to this game? Rollercoaster World. Or is it? I obviously have not done quite enough I Spy this time, and if your uncle is Andross, well I'm sorry, but I've failed him. But it doesn't have to be a non-stop stress ride. You can either attempt to juggle an entire amusement park, the rides, the finances (bankrupt as soon as the gates open) or you can simply jump on into just creating roller coasters and having a fun! Enjoy!



This city is very flat today!

Oh no, my brains
Let's management this bitch up. Starting off with an obscure amount of money, uh 'gold' (this theme park is built by pirates, for pirates), you struggle from the get-go. You lay down your path (very crucial, unlike Theme Park, your visitors have a huge fear of grass), put in some fancy plants, whack in a few shops for hungry hungry people to purchase food with the sole intention of spewing it back out with incredible style later on. Maybe add a single toilet somewhere, a mystery location that'll turn into a fun adventure! Then there are the novelty attractions, the wastes of land, time and money rolled into one. Nobody goes to an amusement park known for its killer roller coasters to ride the bloody tea cup! Even so, the selection here is very limited. Don't expect a cool spooky ghost rape house or a stage filled with country bumpkins playing their banjos here! You also miss out on the same level of options, say like, you can't raise the salt content of your chips by four hundred percent, tsk tsk.

If you want, you can go down and walk around your park in first person. It's kinda cool until you realize how bland and depressing your creation is and you get the desire to drown yourself in the toilet, but can't remember where you put it. The vistors show up as real people.. in 2D. Pretty disturbing, especially when you walk around them and they keep sliding to face you. THOSE REALISTIC BLURRY FACES, ALWAYS WATCHING. This is one time I'd prefer kawaii supah kewl super deformed Hello Kitties or something. You can talk to these freaks if you wish, they'll usually offer thought-provoking stuff such as "I get bored when there's nothing to do" or "I'm tired, I need somewhere to sit". When this is said as they're standing right next to a seat, I nod my head in a concerned manner and pretend to stroke a beard that does not exist. Luckily the one man band behind this has provided some lava for those who dig deep enough. For instance, walking up to the ticket machine and mashing the GOGOGO button will spawn some cas-gold. Why? Fucked if I know! It's the best ticket machine ever! You can also find running shoes! These let you run! NO WAY YES WAY. Don't like running? How about ROCKET BOOTS? Damn right. Extremely glitchly rocket powered hovering is here, today!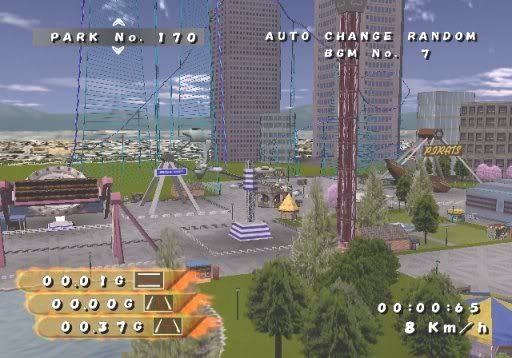 Watch out Disney Land. People are leaving the park at 8km/h!

Build a suicide machine
But wait, we haven't put in a roller coaster! This is the bulk of the game. The meat and potatos. The uh. The game throws a colossus at you in the form of a track builder. Firstly, the instruction manual is a pile of smell. A smell so bad your eyes water, because the smell has gone inside them, up in your brain, and punched your best memories right in the gut. Seems Midas would rather dedicate more space to advertising their other 'great' titles like Eternal Quest (OH JUST YOU WAIT) and MaXXed Out Racing (sounds hardcore, it's like the title suggests they've pushed the Emotion Engine to its limits) than explain the game in question. Wait there's no question here! Luckily the game has a built in tutorial of sorts.

It's good stuff! The creativity is allowed to run all over the joint here. You can build them sooooo high and put in soooo many twists, turns, loops, bumps, death areas, sooooooo forth. Even if you somehow run out of room in your park, the nice lads running the blocks of land with the huge office blocks around you will let you design the track past their windows. That'd make meeting time fun! "Alright team we're here to discuss our declining prof*ROLLER COASTER ZOOMS PAST AND FOUR PEOPLE HURL ACROSS THE WINDOW*its, any ideas?" You don't even have to make the thing connect back to the beginning. It's fine to go even if it causes everyone to just fall off at the end and crash. Safe! You may lose money and get shut down though.

To prevent such minor events like death, you can get crash dummies to test your death trap out. Gotta watch these things! If you have say, a sharp turn coming right off a massive hill, there's a pretty good chance people are going to FALL THE FUCK OUT or better yet, the roller coaster won't make the turn at all and just keep going until it crashes into the tea cup ride below. It's okay, nobody will be on that anyway. But really, isn't killing people is the only real reason to play? Of course it is, I've just said so in this professional review! It's the true game objective, trust me. =)



I don't think this giant white chocolate Wagon Wheel is a success, shut 'er down.

But the best part? You can ride them too! Hop on, marvel at the other people (who become crude 3D models instead of creepy 2D blocks of ice). The game gives you plenty of camera angles, puts Dead of Alive Volleyball to shame for sure. This is easily the greatest part of the game! Especially if you've put the effort in and really made something rad. Along the way you can choose to have it display an information screen. A WHAT. This will give you detailed information such as '4 people have wet themselves', '8 people now have nose bleeds', '2 people have brain damage', '9 people will sue you if they survive'. It's quite charming, and I was surprised to see it included in the game! They'll also scream for you, so you can have a toss if you want (I don't know). WHOOPS THOUGH, if you've made some slightly off calculations, you'll see people get flung out in a hilarious way. This is BEYOND awesome if you've set the camera angle to your seat, so you'll watch people just suddenly fall out in front of you. Or the person next to you go bye bye. You always survive though, because you're GOD. It's not rare to start the ride with a bazillion people and end up being the only one left.

I ruined your ice cream, it's my day!
I think I mentioned somewhere up there that you can also just make the roller coasters by themselves if you want. In a section where money is of no concern! There's even a mission mode. I couldn't be stuffed even trying that, so yeah. Thumbs up? Then you can save the works of art and ride them anytime you want. You can even choose the time of day, and background music. There's around 30 songs, ranging from bloody ears (the less popular brother of Bloody Tears) to only having to turn the volume down just a tad. These screenshots look a lot like arse. Well, if.. wait.. no. That'd be a pretty weird arse, what with the everything in these screens in there. Imagine going to the toilet and a roller coaster falls out into the bowl! Mostly because it is very basic. Blurry textures and stuff. But hey, ONE GUY. Also it runs at a constant 60FPS, which is rad for the roller coaster rides. The game seriously looks quite nice when you set it to dusk.

I made a video, I even uploaded it to YouTube! But then found that a better one exists in the form of the promo. My video looked really shocking quality wise anyway!


Final scare:

DANCE! WOO! YEAH!

____________

Fighting Angels
Yakuza Fury
Demolition Girl
Paparazzi
Pinball Fun
Zombie Zone
Space Invaders Revolution
Party Girls
Street Boyz
Deadly Strike

| | |
| --- | --- |
| | Currently Playing: Otome wa Boku ni Koishiteru (LONG NAME) - Determination (<3) |