| | |
| --- | --- |
| | Aug 9, 2009 - 05:36 PM |

Addict.
So this past week I spent excavating my old bed from my parents' 'junk room' (the middle/third bedroom) because my back was dying from sleeping on the shitty Thai futon they replaced the bed with in my old room.

The bonus to this is that I would free up some space in that middle bedroom so that I could move the boxes and boxes of books that were taking up space in my bedroom. I didn't realize exactly how many books I had until they were all stacked up: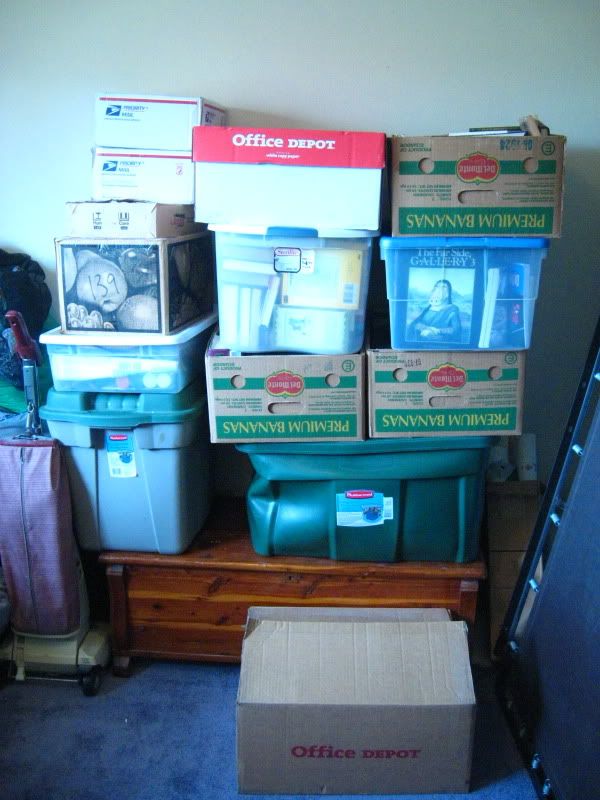 Six boxes of novels, one box of comics, one box of manga and four boxes of reference type books.

And there's still two boxes under my desk, some books in the top of my closet and the top of my room locker. And 5 boxes I shipped from Texas that are still sweltering in the SUV outside. Ughhh. So now we're going to buy a big-ass bookcase to go against one wall in this room, for all the stuff. I hope it fits them all... I'm thinking IKEA, but it would have to be shipped here, as we don't have one near us.


In other news, my grandma ditched me today to go on a 'date' with this guy in Fresno, to see a Jazz/blues festival.
| | |
| --- | --- |
| | Currently Playing: Soundgarden - Slaves & Bulldozers |